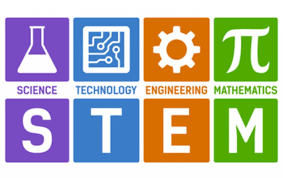 In an ever-changing, increasingly complex world, it's more important than ever that our nation's youth are prepared to bring knowledge and skills to solve problems, make sense of information, and know how to gather and evaluate evidence to make decisions. These are the kinds of skills that students develop in science, technology, engineering, and math—disciplines collectively known as STEM.
Activities are held every Wednesday from 3:00 - 4:00 PM and designed to incorporate the following subjects:
Science
Technology
Engineering
Math

Collecting Data
Analyzing Data
Interpreting Data
To join STEM, please complete this STEM Application and return it to Ms. Madlung in Room 202.  If you have any questions, please ask Ms. Madlung.
We look forward to seeing you on Wednesday!