---
Free Ice-Cream Sundae?
Sign up for January Book Club (PDF) in the library.  Talk about your favorite book and build an ice-cream sundae.  See Ms. T for more details.
---
Snowflake Contest - Win a Prize, Support a Charity
Make a paper snowflake (one entry per person) and turn it into Ms. T and Ms. Clark in the library no later than January 28th.
Snowflake Contest (PDF)
---
JPJ Theatre Presents It's A Wonderful Life
Our theater students have been working hard under the direction of Ms. Hanks.  Please enjoy our winter play adapted for radio due to Covid-19 restrictions.
---
Fine Arts Assembly - Winter Showcase
Our Fine Arts Department presents the

JPJ Winter Showcase

.  Enjoy watching the work of our talented students.  You must have a JSD email address to access this video.
---
New Chromebook Instructions for 7th Grade Students
---
Panther Express Donations Help Women's Shelter
Donate any of these items before December 18th to help the South Valley Services Shelter.  All items must be new.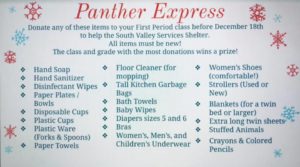 ---
Return to In-Person School on December 7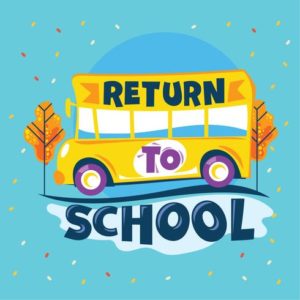 We are excited to have everyone return to in-person school on Monday, December 7.  Remember to bring your fully charged Chromebook and wear your  mask.  We look forward to seeing you.
Thank you for all you did during online learning.
---
Picture Retakes on Thursday, Dec. 10
Some students still need their picture taken for the memory book and a student I.D.   Many of our virtual learning students have not had their picture taken, so please consider having them photographed on this day.
The new picture retake day is Dec. 10th from 8 to 10 a.m.